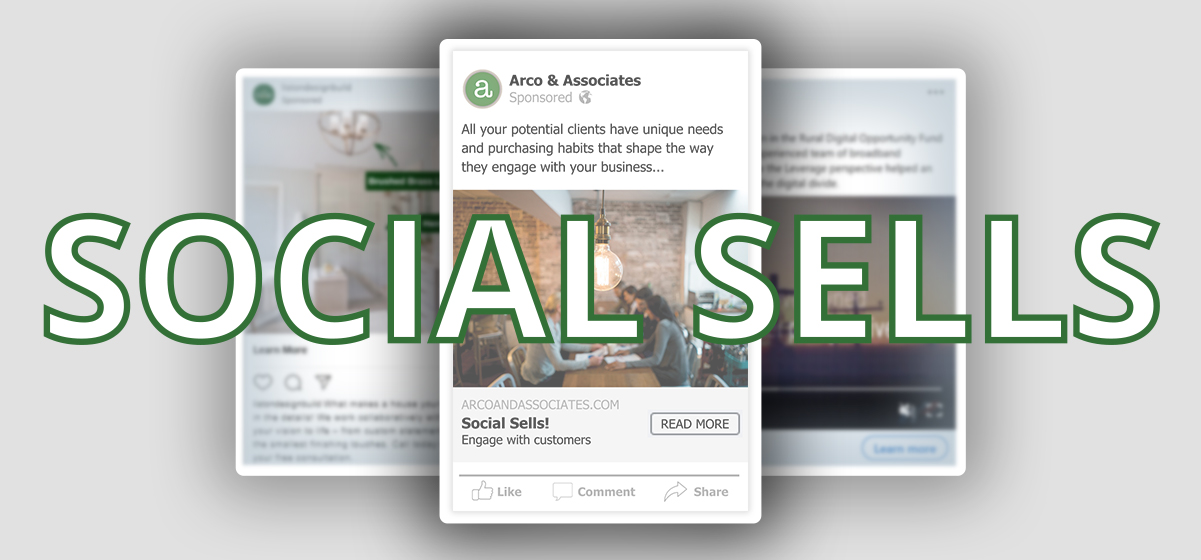 All your potential clients have unique needs and purchasing habits that shape the way they engage with your business. No matter how long it takes a person to reach their buying decision, they're likely to search for more information about your brand in several different places – and one of the most popular is social media. A recent report by the GlobalWebIndex shows that 54% of people research products and services on social media before purchasing them, making it one of the most important and impactful touchpoints in marketing.
With so many people turning to platforms like Facebook, Instagram, and LinkedIn to learn more about your brand, how can you leverage their interest to drive engagement and ultimately generate more revenue? You've probably heard it before: "meet your customers where they are." That doesn't just mean understanding which platforms they're searching on – it also means understanding how their questions, concerns, and needs change as they move through the decision-making process. A person who is just learning about your brand for the first time will have different questions than someone who has already begun to research your product or service, just as a repeat customer will be looking for different information than a new one. Read on to learn about the types of social media content you can create to nurture stronger relationships with your customers.
Stage 1: Awareness
At the Awareness stage, people are being exposed to your business for the very first time and want to learn about who you are and what you do. For those who find out about your company on social media, it's especially important to make sure your content aligns with your brand standards and clearly conveys what your product or service is. People want to know what they can expect from your business at this stage, and cohesion and consistency are the keys to achieving that.
To make a great first impression on prospects checking you out for the first time, make sure your social media plan includes:
Actionable tips and tricks related to your industry
Highly visual animations, videos, and graphics highlighting your product or service
Behind-the-scenes pictures or live videos showcasing your process, team, or history
Posts asking questions – or asking for opinions – to spur interaction
Stage 2: Consideration
Once your prospects have transitioned from discovering your brand to considering doing business with you, they'll want to learn even more about your product or service, your mission and company values, and your differentiators. Content at the Consideration phase should center on the benefits of what you're offering, how it works, and why it's worth people's money and time.
These types of content will help you inform your audience and make a lasting impact as prospects get closer to their purchase decision:
Infographics (preferably with statistics!) about your product or service
Live tours, demos, or Q&A sessions
Links to one-pagers or information sheets
Case studies
Stage 3: Conversion
Prospects at the Conversion stage have already established a need and desire for your offerings – they just need that final push to take action! Up the wow-factor by honing in on your expertise or advertising special offers to lessen the purchase barrier.
Try these types of posts to encourage more conversions:
Discounts, sales, or contests
Photos, videos, or graphics highlighting the unique features of your product or service
Free trial or consultation offers
Written or video testimonials from current customers or clients
Media hits highlighting you or your company's C-suite as industry experts
Links to your thought leadership articles
Photos or videos of your product in action or sneak peeks of your team at work 
Stage 4: Retention
Catering to clients who have reached the Retention phase is all about enhancing their experience with your product or service and encouraging them to do business with you again. While making the sale is sometimes seen as the end-goal of the customer journey, turning people into repeat customers means they may become brand advocates who encourage others to do busines with you, too.
Here are some types of content that will reinforce your client's decision to work with you:
Answers to FAQs about your product or process
Behind-the-scenes previews of upcoming offerings or events
Links to interesting or important news articles related to your product or service
Surveys or polls
User-submitted photos and videos
Exclusive customer discounts, promotions, or giveaways
If you need help developing and executing your social media strategy and creating fan-worthy content, get in touch with our team to see the difference Arco can make for your clients and your business!