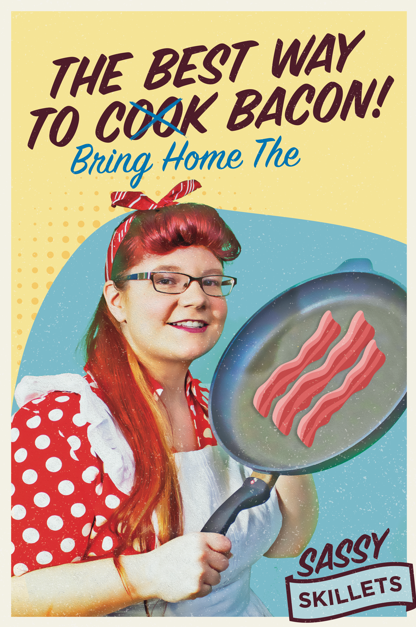 We're cooking up some Mad Men inspired fun over here at Arco + Associates. This mock vintage ad (featuring our lovely LeeAnn) is just a small sneak peek that we couldn't resist sharing in light of International Women's Day.
March 8 is a global day to celebrate women's achievements, raise awareness against bias, and take action for equality. It's an opportunity to challenge stereotypes and reposition—something we do daily in the world of public relations. When we're presented with business challenges and negative perceptions, it's our job to reframe. We can do the same for undesirable situations and stereotypes that stand in our way as women. You can't change the facts, but you can change the narrative.
Like with any PR campaign, it's not enough to simply ignore unfavorable notions and shout your message into a void. In order to be heard, you have to listen. In order to resonate, sometimes you have to meet the opposition on their level with a "Yes, and…" approach. The "Yes, and…" principle is one of the basic tenets of improv. It sets the precedent that no matter what you're presented with, instead of negating or disagreeing with it, you accept what the other person has stated ("yes") and expand on that line of thinking ("and").
When applied outside of the improv world—in life, in business, in politics—the "Yes, and…" principle has the potential to improve the effectiveness of communication and encourage the free sharing of ideas. It allows us to confront negativity head-on in a positive way.
How is this relevant to International Women's Day?
As an 88% percent female and women-led company, it's always our goal to celebrate how far we've come and continue to break the mold, rather than dwell on the road blocks.
Do women receive just 7% of venture funds for their startups? Yes, and…
According to Forbes, when private tech companies are run by women, they render a 35% higher return on investment than those run by men. Venture capitalists can't continue to ignore this data and remain successful.
Were only 29% of senior management roles held by women in 2019? Yes, and…
Women started 1,821 net new businesses every day last year. This means more female run companies are on the rise, which will beget more women rising to the top within them.
Do women-owned businesses contribute to just 4.3% of total private sector annual revenue? Yes, and…
Only a quarter of women business owners seek business financing (compared to a third of male) and female entrepreneurs receive almost $5,000 less in average loan size than men.
If more women business owners seek and gain access to financing for growth opportunities, this contribution to US revenue will become more proportional.
Are many women still the primary caretakers of their households? Yes, and…
There are 114% more women entrepreneurs than there were 20 years ago—and 62% of them claim that their business is their primary source of income. So, yes, we can cook the bacon…and we can bring it home too!